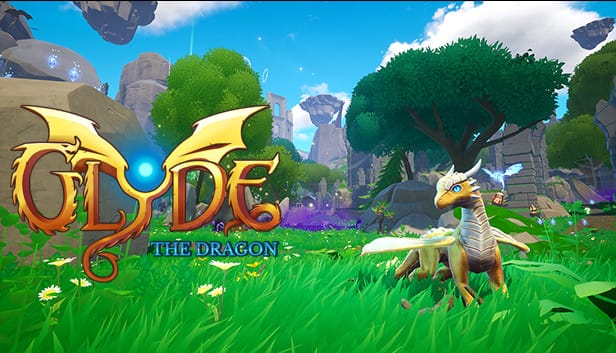 You can get a copy of the game for their $9/mo+ tiers, and only need to pledge once.
Game Introduction
Glyde the Dragon is a game like Spyro The Dragon. I would go so far as to say it's Spyro's Spiritual Successor. It has a nice fluid combat system with combos & dodges and many abilities per element type. There is a co-op mode, but it only works with tools like Parsec & screen-sharing to see the other players' end. We hope the client-to-client co-op will come down the road.
How's The Gameplay?
I streamed it for 3 hours today. I would have to say that despite some bugginess, it is still fun to play. This is bound to happen in early test builds that are Alphas. Glyde the Dragon feels like a platformer. Why? It includes jumping puzzles, and some puzzles relating to your elements. Below is the archive from my YouTube stream where I played this cool game. Bear in mind, this is an alpha, it will be buggy:
What I Like About The Visuals
The textures and art style of Glyde are amazing. Great people that they brought on to do the art and texturing for the game. The player health area has a cool style to its UI, shown below. Here is a picture of the health bar in the upper-left corner. The small icon underneath the bars shows which element you're currently using.

How's The Audio?
For the most part, the audio is great. Usually, I can be like "I'm gonna take a break from this game for a while" if I keep dying and dying, over and over. But the background music in this game seems to have prevented me from doing that this time. The attack sounds and ability sounds, do sound pretty good as well. If you want to listen to Glyde's audio, be sure to watch the stream archive above. The audio does have a couple of bugs, as mentioned below.
Any Notable Bugs?
The game currently has some small memory leaks currently. It seems to slow down the loading screen after a while. This makes you restart the game once in a while to speed it back up. There are some texture glitches in certain areas, like water textures over top of the sand. The developers know about most of the bugs I've seen, but some they weren't sure about. My input gave them some confirmation on the bug.
Would You Like To See More?
Feel free to join in my streams over on YouTube (Fridays & Saturdays) or Glimesh (Mondays, and other days as a bonus) and we can schedule another date to stream the game so you can see how it plays for yourself! Click the logos to go to each respective channel.
Concluding Thoughts
I will follow Glyde the Dragon's progress and keep you updated with more information as I find it. Be sure to check back when the Patreon test builds get updated! Once I learn of areas that need testing.
Have a RAWRSOME day, Mesozoic Haven family! Catch you next time!