The server is currently INACTIVE!
Our Server Is Currently Inactive Until We Have Funds To Run It!

If you want to help contribute to expenses, you can join our Guilded or Patreon subscription plans for perks on all of our servers, or donate one time on one of Kenson's streams!
We recently launched our Path of Titans Gondwa game server! If you're looking for a friendly, chill server to play on, you've found the right place! We strive to provide a friendly environment for all sorts of players. From people who just bought the game, to veterans! Our server is a bit different from most servers, so please take a moment to read about our server here!
To join our Path of Titans server, simply search for Mesozoic Haven [Chill]. Please remember that we are NOT a Semi-Realism or Realism server, we're a Chill server! There is another set of servers called the Mesozoic Era; we are not related to them in any way. Our community name has existed for ~4-5 years now, and we've been around for a while; even though we're not a huge community.
Our server will always be cross-play compatible. We want to have the server available to as many players as possible! If we do add any mods, it will be after a few weeks or so, and we'll make sure all mods are cross-play compatible with PC, Console, & Mobile. That way, you can join on all of your devices!
Server SafeZone
As a Chill server, it makes sense for us to have a "Safe Zone" where you can sit and relax without being attacked by other players [if they do attack, they get dealt with as rulebreakers]. This is perfect if you're new to the game and want to learn how to play in peace, or you want to grow a dinosaur before venturing out into the Wilds, or if you just want to sit and hang out forever! We won't judge!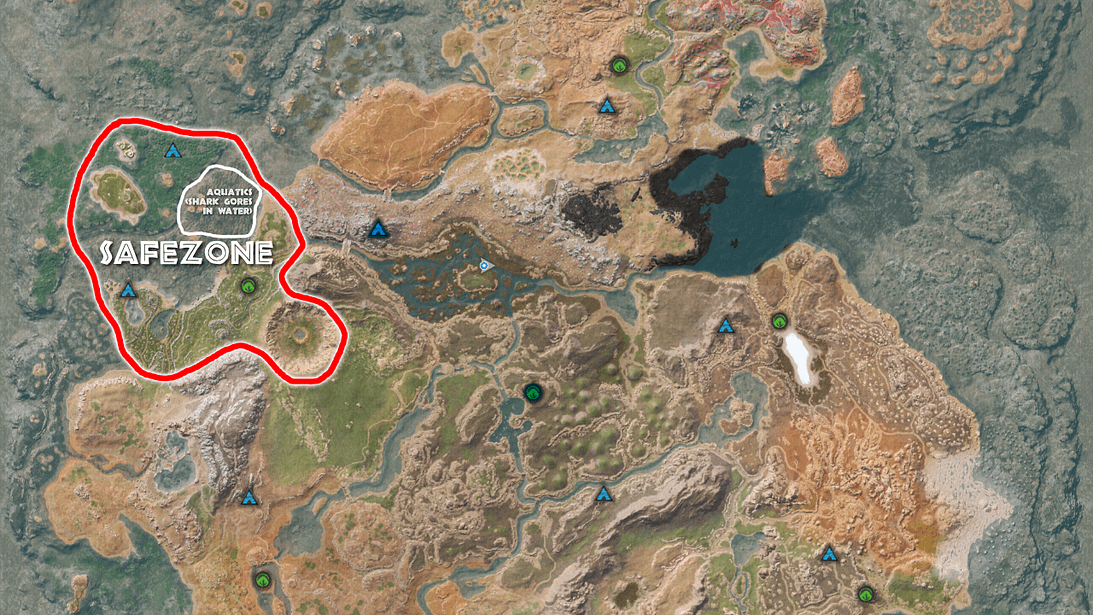 The Wilds
Once you're outside the Safe Zone, you're in the wilds. You're free to attack others as long as you're not KOS'ing or KFS'ing! We would appreciate it if you didn't Kill On Sight or Kill For Sport. Please 3-call if you plan to attack someone so they can defend themselves. If the other party does a 3-call (aggressive) or broadcast, then you can battle. If they 2-call (friendly), then please do not attack them.
The wilds are considered the entire map except for SafeZone. If you are attacked, or you are attacking outside the SafeZone, in the Wilds, that is completely within the rules. Just make sure to 3-call each other to initiate combat! If the defending party 2-calls, they don't want to fight and you should leave them alone to find another food or water source.
We have both the Wilds and SafeZone to appease many types of players! Including "dino chat sim," RolePlay, and standard survival players! If you have any suggestions, don't hesitate to ask us on our Guilded server or in-game! 
Paid Sub Perks
There are two ways to subscribe currently. Guilded & Patreon. If you want to help contribute to our Path of Titans server expenses, you can get a couple of perks. Unfortunately, due to the Alderon Games' Terms of Service, we're limited in what we can legally give subs. Unfortunately, we are not allowed to give Marks as subscriber rewards. You'll have to participate in events to win those! Your perks include:
Custom Name Color
"Perma-Wound"

Gives you a visual wound on your dino. Since this is purely cosmetic and doesn't affect gameplay, should be fine. (Not all dinos have all regions available as perma-wounds)
(some dinos may not have any available. this needs to be tested and recorded)
Please don't overwork our staff asking for perma-wounds! They want to enjoy the game too!